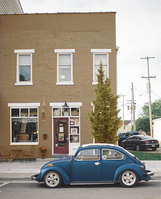 Public transport:
Letbanen/Tram Line 2 direction Aarhus University Hospital or Lisbjergskolen. It leaves from the train station in the city centre. Get off at the stop "Stjernepladsen" and walk up Randersvej and turn right onto Skovvangsvej.
Bus lines

15 to the stop Abildgade/Bethesdavej, backtrack down Bethesdavej and turn right onto Skovvangsvej.

5a, 12, 100, 120, 121, 122, 123 to the stop Trøjborg Centeret/Nordre Ringgade. Walk up (north) of Aldersrovej and turn left onto Skovvangsvej.
If you come by car it's important to know that if you drive down Randersvej into the city, you can't turn left onto Skovvangsvej. You have to go all the way down to Nordre Ringgade, turn left in the intersection and then go on until you reach Trøjborg Centeret/Aldersrovej and then turn left again in that intersection and go up until you can turn left onto Skovvangsvej. It's a hell of a mess, but there's a tram line in the middle of Randersvej.
Other than that, Google Maps is your friend!

There are good shopping possiblities in the area.

Take a right turn from Skovvangsvej down Aldersrovej and you end up at the Trøjborg Center where there's both a store, a bakery, a beauty store and such.
If you wanna stretch your legs a bit you can walk the other way down Skovvangsvej out to the main road Randersvej and walk north/up the road and you'll reach a Netto, Rema 1000, a McDonalds and two gas stations.